Country Info >> Ecuador
Although Ecuador marked 25 years of civilian governance in 2004, the period has been marred by political instability. Protests in Quito have contributed to the mid-term ouster of Ecuador's last three democratically elected Presidents.
Ecuador is substantially dependent on its petroleum resources, which have accounted for more than half of the country's export earnings and one-fourth of public sector revenues in recent years. In the late 1990s, Ecuador suffered its worst economic crisis, ... More >>
Country Statistics
Capital
Quito
Government Type
Republic
Leadership
President Correa Delgado
Language
Spanish
Primary Religion(s)
Roman Catholic (95%)
More >>
---
About Us
 Tventas was created in 1988 as the first live shopping system in South America. Today Tventas has a 40 retail store chain in Ecuador, a full service production studio where the live shows are produced and is the largest DRTV distributor in the country. Tventas also has become one of the most important spot and infomercial producers in Latin America.  Our shows now air all over the world and products created by Tventas are sold in Latin America, Europe, Asia and the United States. In 2005 and 2006 Tventas won the 'Best DRTV Spot Produced in Spanish' awards granted by the Electronic Retailing Assotiation (ERA). Today Tventas distributes products for the most important DRTV suppliers in the world.
Read More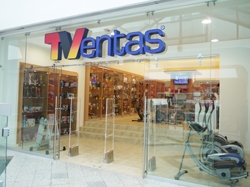 Read About
---