Country Info >> Uruguay
Uruguay's well-to-do economy is characterized by an export-oriented agricultural sector, a well-educated work force, and high levels of social spending. After averaging growth of 5% annually during 1996-98, in 1999-2002 the economy suffered a major downturn, stemming largely from the spillover effects of the economic problems of its large neighbors, Argentina and Brazil. For instance, in 2001-02 Argentina made massive withdrawals of dollars deposited in Uruguayan banks, which led to a plunge ... More >>
Country Statistics
Capital
Montevideo
Government Type
Constitutional Republic
Leadership
President Jose Mujica
Language
Spanish
Primary Religion(s)
Roman Catholic (66%)
More >>
---
About Us
Teleshopping leads Direct Marketing companies in Uruguay.
Offer and deliver a wide range of  exclusive and high quality products to our own customer
 
databas to cover all situations and needs Beauty, Home, Tools, Fitness, Car items and Music.

Focus our operation in products selection, looking for exclusity, excellence and high quality 


all over the world and strategically promote them through best international and nacional TV
 
channels, Mail, Internet and Telemarketing.
TELESHOPPING URUGUAY
Santiago Vazquez 1160
P.C.11300
Tel.: 5982 707 14 63
Fax.: 5982 706 65 20
Read More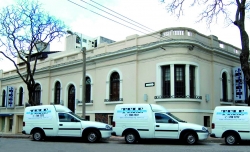 Read About
---