About Us
Tevecompras is the leading direct marketing company in Argentina and the largest buyer of  DRTV products in the country, with headquarters in Argentina and great influence in  bordering countries like Uruguay and Paraguay.
With its own call center, logistics and the distribution in all channels in the territory, Tevecompras gives a complete satisfaction and quality products to the local customers, and offers  a full guarantee to suppliers from all over the world.
Tevecompras es  la empresa líder en Argentina de Marketing Directo, y el mayor distribuidor de productos DRTV en el país, con base en Argentina y gran influencia en países vecinos como Uruguay y Paraguay.
Tevecompras ofrece a todos sus consumidores un altísimo nivel de satisfacción y calidad de producto, gracias a su exclusivo call center, su logística y una amplia distribución de canales a lo largo de todo el territorio, y total garantía a los proveedores de todo el mundo.
Our History
Established in 1986, we are the Argentinean leading Direct Marketing Industry. Tevecompras has transformed itself with great success as one of the strongest and most reliable companies for both innovative products and services and the excellences in customer satisfaction.
The  keys to our success include our wide retail distribution,  the excellent quality of our products, the highest performance in media planning,unparallel operational efficiency, decades of experience in telemarketing services and above all the best "As Seen On TV" Stores in the region.
Fundada en 1986, somos la industria líder en marketing directo del país. Con probado éxito, Tevecompras se ha convertido en la empresa más sólida y confiable en materia de productos y servicios innovadores, como así también en la excelencia en cuanto a la satisfacción de sus clientes.
La llave de nuestro éxito se basa en su amplia distribución minorista, la excelencia en la calidad de sus productos, la altísima performance en la planificación de medios, una inigualable eficiencia operativa y amplia experiencia  en el manejo de los servicios de telemarketing y fundamentalmente por tener los mejores  negocios "As Seen on TV"  de la región.
Our Capabilities
Fast and reliable tests on all products
Best quality on effective post production on spots an infomercials
Own pan American media for test and roll-outs
Efficients in house Call Center, with 250 stations
Fast and reliable Logistic in place
Wide retail distribution.
Ability to develop our own products, spots and infomercials in house
Online Sales through our Web Site
Best "As Seen On TV" Stores
Status as the largest buyer of DRTV products in the country (with written proof of this)
In short one of the best DRTV companies in the region, based in Argentina
Rapidez y confiabilidad en el testeo de todos los productos
Efectividad y Calidad en la post producción de spots e infomerciales
Nuestra propia media panamericana para testeos y lanzamientos
Amplio y eficiente in house call center con  250  posiciones
Velocidad y confiabilidad en la logística local
Amplia distribución minorista
Desarrollo de productos propios, spots e infomerciales
Ventas Online
Los mejores negocios "As Seen On TV"  de la región
El mayor distribuidor de productos DRTV del país  (verificado)
En síntesis, una de las mejores empresas de DRTV de la región, con base en Argentina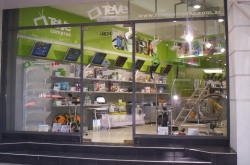 Visit us on the web at:
www.tevecompras.com