About Us
Teleshopping leads Direct Marketing companies in Uruguay.
Offer and deliver a wide range of  exclusive and high quality products to our own customer
 
databas to cover all situations and needs Beauty, Home, Tools, Fitness, Car items and Music.

Focus our operation in products selection, looking for exclusity, excellence and high quality 


all over the world and strategically promote them through best international and nacional TV
 
channels, Mail, Internet and Telemarketing.
TELESHOPPING URUGUAY
Santiago Vazquez 1160
P.C.11300
Tel.: 5982 707 14 63
Fax.: 5982 706 65 20
Our History
 Leads Uruguayan Direct Marketing Companies since April 1992.
Over 16 years we attribute our permanent developement to our special care establishing 

good and long-terms relationships with suppliers and customers, supported by a high 

qualified personnel and top technology.
Our Capabilities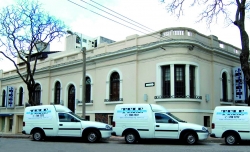 Visit us on the web at:
www.teleshopping.com.uy