About Us
Prokompra 2002 es una importante empresa de marketing directo en Venezuela, con una amplia y confiable base de datos de clientes a nivel nacional a quienes le ofrecemos una gama de productos exclusivos a través de la televisión, catálogo, Internet, Telemarketing, Prensa y Comercios. Llegar a más hogares venezolanos y ser bien recibidos, llevando una amplia gama de productos de hogar, belleza, productos de salud y fitness, ofreciendo novedades, calidad y buen servicio a todos nuestros clientes.
Prokompra 2002 is a leading direct marketing company in Venezuela, with a reliable and comprehensive database of customers nationwide who offer a range of exclusive products via television, catalog, Internet, Telemarketing, and retail. Reaching more Venezuelans homes and be well received, bringing a wide range of household products, beauty, health and fitness products, offering novelties, quality and good service to all our customers.
Our History
Desde 1977 comenzamos como fabricantes, distribuidores e importadores de gran variedad de productos cubriendo solo el comercio, y en 1993, al conocer el mágico mundo de marketing directo, desarrollamos esta técnica para satisfacer las necesidades del consumidor final.
Since 1977 we began as manufacturers, distributors and importers of a wide variety of products covering only retail, and in 1993, when knowing the magical world of direct marketing, we developed this technique to meet the needs of the final consumer.
Our Capabilities
- Local DRTV                         - Local DRTV
- International DRTV               - Internacional DRTV
- Telemarketing                      - Telemarketing
- In Bound                              - In Bound
- Out Bound                           - Out Bound
- Catalog                                - Catálogo
- Newspapers - Magazine        - Prensa – Revista
- Our own stores                     - Tiendas propias
- Retail distribuition                 - Distribución al mayor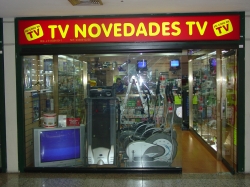 Visit us on the web at:
WWW.TELOVENDO.COM