About Us
Founded in 1996, Polishop has turn into a leading DRTV company in Brazil and is now synonymous with innovation and boldness. Operating in 10 Brazilian states with over than 80 stores, Polishop has its own 24 hour call center, owns its own TV Channel and has strong presence in national broadcast and cable TV.
Polishop is proud to bring innovative and exclusive products, through partnerships with major brands, offering more than 500 products in various categories such as Gourmet, Home, Houseware, Quality of Life, High Tech, Fitness, Womens, Mens, Hobby & Recreation, Automotive, Cd's, Videos & Books.
Polishop has developed a unique strategy tailored to the Brazilian market , and has become the 20th largest national advertiser, with one of TOP 5 most visited sites in the country, supported by heavy advertising presence in 4 top national web portals.
OUR MISSION
To be the leaders in selling exclusive, high value, quality products and to reach a level of unmatched excellence in integrated marketing, offering to consumers multiple channels for interaction and communication.
Our History
In 1996 POLISHOP started its commercial activities with the first product: 7DAY DIET, signed by F-1 and Indy500 champion Emerson Fittipaldi. Two years later POLISHOP started its own Call Center, and created its own proprietary operational management software in order to attend to its internal needs and launch new products.
In the following years, POLISHOP launched its web site, created its profitable e-commerce operation, established its own fulfillment, storage and logistics facilities, and focused its TV media strategy on paid-advertising.
POLISHOP has also invested in its own professional TV studio, with digital switchboards and no-linear editing suites.
Our Capabilities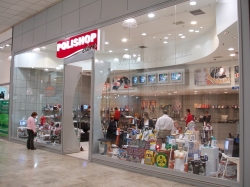 Visit us on the web at:
www.polishop.com.br