About Us
Como en TV, Marketing Worldwide es una empresa de Marketing directo en Ecuador, la cual ofrece en Televisión una gran variedad de productos exclusivos y entrega a nivel nacional incluyendo las islas Galápagos.
Marketing Worldwide is a direct Marketing company in Ecuador who offers a great variety of exclusive products and delivers it nationwide including the Galapagos Island.
MISION:
Satisfacer las necesidades de nuestros clientes, ofreciendo productos exclusivos de belleza, salud y hogar siempre con los mejores estándares de calidad y servicio.
Customers need satisfaction offering exclusive beauty, health and household products through a high quality and service standards.
Our History
Como en TV, Marketing Worldwide es una empresa que abrió sus puertas al mercado ecuatoriano en el año 2004, que durante este tiempo se ha ido posicionando en el país a través de sus productos innovadores.
Marketing Worldwide opened its doors to the Ecuadorian market in 2004, throughout this time the company has been gaining customers with innovation products.
Our Capabilities
Local DRTV
International DRTV
Stores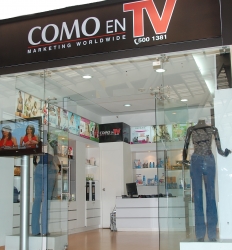 Visit us on the web at:
www.comoentv.com.ec