Country Info >> Brazil
Characterized by large and well-developed agricultural, mining, manufacturing, and service sectors, Brazil's economy outweighs that of all other South American countries and is expanding its presence in world markets. Having weathered 2001-03 financial turmoil, capital inflows are regaining strength and the currency has resumed appreciating. The appreciation has slowed export volume growth, but since 2004, Brazil's growth has yielded increases in employment and real wages. The resilience in t ... More >>
Country Statistics
Capital
Brasilia
Government Type
Federal Republic
Leadership
President Da Silva
Language
Portuguese
Primary Religion(s)
Roman Catholic (74%) (est. 2000)
More >>
---
About Us
Founded in 1996, Polishop has turn into a leading DRTV company in Brazil and is now synonymous with innovation and boldness. Operating in 10 Brazilian states with over than 80 stores, Polishop has its own 24 hour call center, owns its own TV Channel and has strong presence in national broadcast and cable TV.
Polishop is proud to bring innovative and exclusive products, through partnerships with major brands, offering more than 500 products in various categories such as Gourmet, Home, Houseware, Quality of Life, High Tech, Fitness, Womens, Mens, Hobby & Recreation, Automotive, Cd's, Videos & Books.
Polishop has developed a unique strategy tailored to the Brazilian market , and has become the 20th largest national advertiser, with one of TOP 5 most visited sites in the country, supported by heavy advertising presence in 4 top national web portals.
OUR MISSION
To be the leaders in selling exclusive, high value, quality products and to reach a level of unmatched excellence in integrated marketing, offering to consumers multiple channels for interaction and communication.
Read More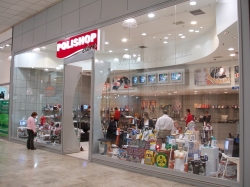 Read About
---